Planning for Print Jobs > Printing Invitations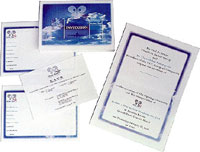 I
nvitations are an important tool in making an excellent first impression to your guests. Whether you are planning a wedding, bridal shower, baby shower, birthday party, or business gathering, invitations can convey the character of your gathering and determine how many people will attend. You may also consider to print and to mail Reply Cards or Tickets with Invitations.

There are several kinds of paper you can use for your invitations, the standard blank paper stock and a complete range of designer papers. The 3 most popular paper stocks are 65# cover stock, 90# index card stock, and 60# - 70# vellum bristol stock. Allprintings.com has a wide selection of paper types to choose from, and we are able to help you find the right type of invitation for your occasion.

In Allprintings.com, you can find lines of wedding invitation catalogues. We have very good selections and competitive pricing for people who do not have time to design their own cards. You may also find catalogues for ethnic groups, including Chinese invitations with traditional gold foil stamping.