Tips and Articles



Tips & Articles Home > Signage > Magnetic Signs

Magnetic Signs - The Basic

Date: Jan 31, 2003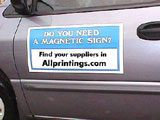 M
agnetic signs are convenient in that they can easily be applied and removed from any flat metallic surface. They're usually used for vehicle doors but can be used on any metallic surface such as file cabinet, refrigerator door, metal bulletin board, and so forth.
They can be ordered in any size from as small as a refrigerator magnet to 24 inches high by any length. The most commonly ordered size is 12" x 18" and 12" x 24" used on vehicle doors.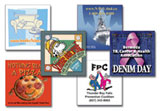 Magnetic sheeting can also be easily cut to any shape. Material thickness is available in 0.015" & 0.020" for refrigerator magnets and a heavier 0.030" for vehicle signs.
In order to have maximum adhesion, you need to keep the backs of magnets clean at all times and only applied to flat metallic surfaces.